Check out our man Tommy. He had a blast playing with the Perkins SMART Brailler today. Tom and I were home because he got sick this morning, so we rested quietly and napped for most of the day. By late afternoon he was feeling sparky so I thought this would be a good time to bring out the SMART Brailler for some quiet fun.
Um…. it wasn't quiet. In fact, there was a lot of giggling going on.
He felt everything on the Brailler. 
I know I have said it before, but Tom loves audio feedback of any type. A regular stuffed animal gets tossed. But if that same stuffed animal suddenly could make noise it would make all the difference!
Enter the Perkins SMART Brailler. It's the Perkins Brailler we all know with an audio interface attached that speaks (words or letters, contracted or uncontracted Braille) as you type. AWESOME!
Last week I shared Ava's experience with the SMART Brailler and I think we can agree that she took to this new Brailler very quickly. But Tommy is only three-years-old and not a Braille reader yet.
He has a library of around 30 Braille books (Applause!!!!) so he is familiar with encountering Braille at home. At school he is still in the pre-Braille stage as they get ready to introduce more formal literacy concepts.
In school they incorporate Braille labels and letters into their everyday experiences so that learning is constantly reinforced in a very natural way. Where you would find print in a regular classroom you find Braille in Tom's classroom. They make sure his folders and his items all have Braille.
But would Tom care to type? Would it be fun for such a young child?
This thing is funny.
And here he is, back for more in his pyjamas. Mom, can I stay up a little bit later to type…?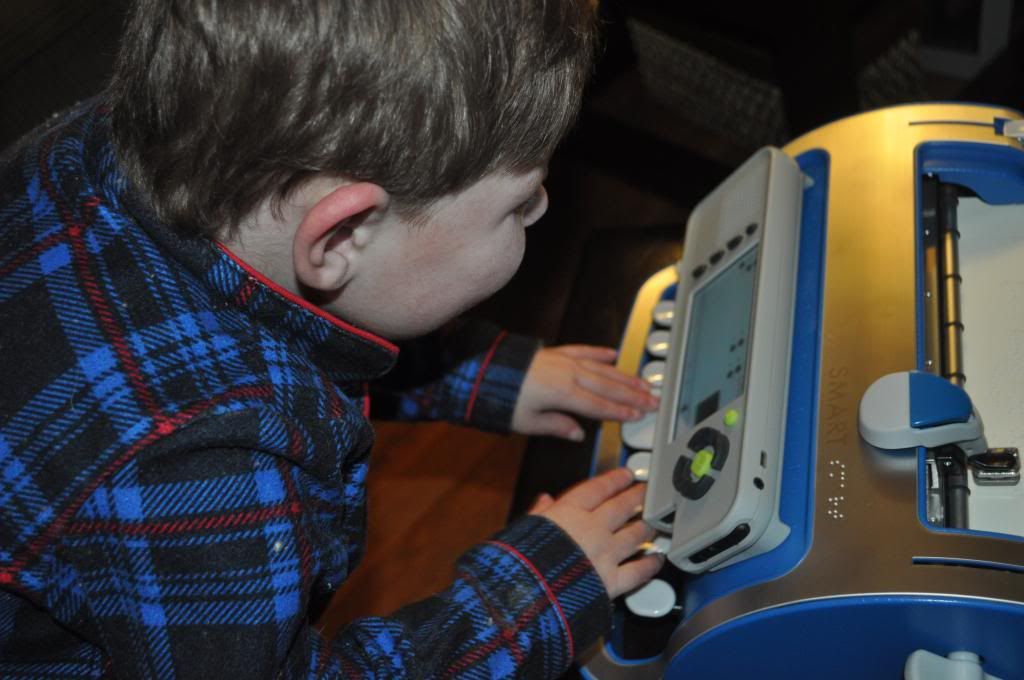 Oh yes, it's fun!
Tom loves the different sounds that signal the end of the line or other changes. The dings and beeps were hysterical to him. He managed to hit quite a couple letters in his typing. Since Tom knows his alphabet this is significant to him. He was making connections as he had his fun.
I sat there and typed words like Tommy, dog, cat, goat… I have very little experience with a Brailler but I have to say that it was pretty cool. I could actually see myself trying to Braille his regular print books for him once I got more practice. Ok, a lot more practice, but I could actually see it happening someday with the SMART Brailler. 
I would not have that level of confidence with my regular Brailler. It would just make such a difference to be sure that I was getting all the punctuation and contractions right. I could never give him anything I Brailled unless I knew it was 100% correct. You don't try to teach sighted kids to read from books full of typos, right? The same goes for Tommy. 
More about Tommy's typing experiences soon!
This sounds cool, right? Maybe you should get in on this… Well, if you have a blog/website and a visually impaired child you can trial the SMART Brailler too!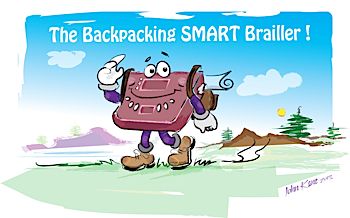 Do you…
have a school-aged child who is learning braille or is expected to learn braille
have a blog or website where you can post your ideas and comments about the brailler
be prepared to shoot videos of your family using the brailler and post the videos to YouTube or Vimeo
share a photo of your family and a short bio explaining who you are and why you want to try out the brailler
sign a media release form allowing Perkins/Wonderbaby to share your photos and videos
Send an email to help@wonderbaby.org with the subject line "Backpacking Brailler" to apply!
Related posts